AIGA New Mexico & ASMP New Mexico Hire Ed Portfolio Review 
WHEN
Saturday, April 16, 9:00AM–3:00PM

WHERE

National Hispanic Cultural Center
1701 4th St, Albuquerque, NM 87102

DESCRIPTION

If you are a college student or emerging professional studying graphic design or photography, and looking forward jump-starting your career, this event is for you! The AIGA New Mexico and American Society of Media Photographers 2016 Hire Ed Portfolio Review begins by mixing and mingling with fellow creatives over a continental breakfast, followed by talks from top locals in the industry and a Q&A. The main event: spend the afternoon getting your portfolio reviewed one-on-one by designers and photographers who work in our state's studios, agencies, and nonprofits, own their own businesses, and more!

The Hire Ed Portfolio Review is New Mexico's premiere event for students and young creative professionals to interact directly with local creative educators, professionals, and potential employers as well as other students in the field. Year after year, students and reviewers are united in their passion for the creative profession and a common goal to further the community and future of design and photography as a whole.
WHY ATTEND
AIGA NM & ASMP NM are giving you the chance to get some real-world, constructive criticism on your work in a no-risk, non-competitive environment!

How would your projects hold up in an interview? How would YOU hold up? Time to find out! Attendees have the opportunity to receive professional, objective advice on their work and resumé from local creative industry professionals. While this event is not a job fair, some reviewers may be looking for potential employees or interns.

Attending Hire Ed is a great way to discuss your work, fine-tune your presentation skills, network and become aware of who's who in your local design community. Meet and network with local creative professionals, and create the foundations for a multitude of connections. Who knows what opportunities can come out of further interactions?

AIGA NM & ASMP NM have lined up a pair of wonderful speakers to offer lessons on what students should expect after graduation. Their talks (with a Q&A following) will give you guidance and advice as you take those steps out into the world of professional design and photography.

PORTFOLIO REVIEWERS:
We are lining up a great roster of design and photography professionals across the state to review portfolios and talk with all our up-and-coming creative professionals. Check back here and on our social media as we add more reviewers to the list.
KEYNOTE SPEAKERS: 
Randall Marshall, Principal/Vice President and Creative Director of Kilmer | Kilmer | Marshall | Duran
Randal Marshall is Principal/Vice President of Creative Services at Kilmer | Kilmer | Marshall | Duran and is responsible for brand strategy, brand development, brand aesthetic development, branding tools and creative supervision. Randall, a native New Mexican, received his BFA in Design–Communications from Texas Tech University in 1989. Randall has developed branding and rebranding programs and signage systems for a variety of local and national clients such as Target Corporation, Marshall Fields, Lovelace Health System and PNM / PNMResources. He designs, art directs and oversees all creative. He has won numerous local and national design awards from ReBrand100, Graphis, the American Institute of Graphic Arts, the Print Regional Design Annual, How Design, Ad Federation Addys, and a Clio Award.

Jamey Stillings, Fine Art Photographer
Jamey Stillings is a photographer whose work spans fine art, documentary and advertising. A passionate interest in people, world cultures, social and environmental issues are guiding forces in his photography and life. He approaches personal and commissioned work with similar sensitivities: to celebrate the human spirit, seek magic moments of light and expression, and create a sense of balance and clarity within each image.
www.jameystillingsprojects.com/
WHO SHOULD ATTEND:
Student designers and photographers.
Young professional designers and photographers starting out.
Experienced professional design, photography, art, and communication professionals and educators interested in looking to review and advise the next generation of creatives. Why not take a few hours and give back to our local creative community?
WHAT TO BRING:
Yourself at your best, dressed for success. 
Your polished portfolio, ready to impress.
Several copies of your resume.
Business cards, so we can keep in touch. 
A notepad to take down all that awesome advice. 
AGENDA:

9:00–10:00AM : Meet and Greet, Continental Breakfast 
10:00-10:15AM : Opening (& a giveaway) 
10:15–11:15 : Speakers
11:15–12:15PM : Portfolio Review
12:15–12:30PM : Break (& more giveaways) 
12:30–1:30PM : Portfolio Review 
1:30–2:00PM : Closing (& even more giveaways)
3:00-5:00PM : Post-Review Social and Mixer 
PORTFOLIO TIPS AND TRICKS:
Portfolios should include no more than 12 examples of design work, digital or print. Time will be limited. 
Prepare and dress for the review as if this was a job interview.
Avoid typos and poor craft skills in your portfolio of work. 
Practice talking about your projects. 
If you plan on showing interactive or rich-media work, please bring a fully-charged laptop or tablet. Just as in the real world, WiFi may be available but should not be relied upon. Have backup files saved locally. 
Don't be late. 
COST:

As always, it pays to be a member! Registered members of AIGA New Mexico & ASMP New Mexico get 50% off their registration to Hire Ed Portfolio Review.
Members Pre-Registration: $10
Nonmembers Pre-Registration: $20
Price at Door (Regardless of membership): $25
VENUE:
Hire Ed Portfolio Review will be held at the beautiful National Hispanic Cultural Center in Albuquerque, New Mexico. The National Hispanic Cultural Center is dedicated to the preservation, promotion, and advancement of Hispanic culture, arts, and humanities. The Center presents over 700 events and creates the opportunity for thousands more through its art museum, library, genealogy center, and educational resources.
Handicap parking is available by the Pete V. Domenici Education Building at the NHCC.

DIRECTIONS & MAP: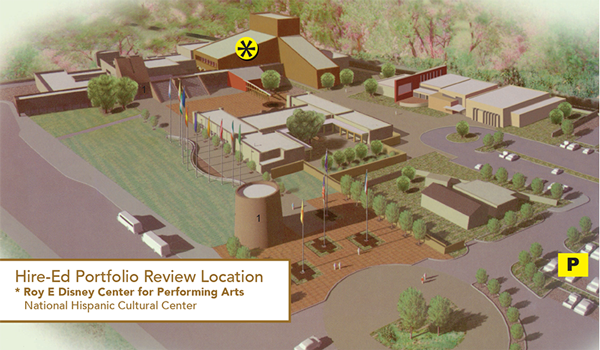 From I-25
Exit Avenida César Chávez, follow west over railroad tracks. You can enter the campus by turning left on 4th Street or 8th Street.
From Downtown
Follow 4th Street south to Avenida César Chávez, and turn right into the campus from 4th Street just after you pass Avenida César Chávez.
From Bridge Blvd.
Travel east on Bridge until it becomes Avenida César Chávez, and then turn right on 8th Street into the campus.
Parking
The parking area can be access via 4th St SW and 8th St SW. 
POST-REVIEW SOCIAL:

Join us after Hire Ed for our Post-Review Social following the event at 3:00PM. This is a time for you to continue the conversations you wanted to finish or catch up with people you wanted to see. We have loved seeing the motivation and conversations striking up after the review was over in past years and we wanted to offer a place to continue it. This part of the event is optional, but we would love to have you there. Attendees of the Post-Review Social will be responsible for their own food and drink purchases.  
• Demand Printing Solutions
QUESTIONS:

If you have questions about Hire Ed Portfolio Review, please contact:

Monique Martinez, Education Director, AIGA New Mexico at monique.martinez@newmexico.aiga.org

or Darold Ross, President, AIGA New Mexico at darold.ross@newmexico.aiga.org

About ASMP New Mexico

The American Society of Media Photographers is the premier trade association for the world's most respected photographers. ASMP-NM advocates the highest standards of professional photography, offering programs, seminars and timely news, providing business support to its members, encouraging education and promoting camaraderie in the larger photographic community in New Mexico.

More information at: http://asmp-nm.org

About AIGA New Mexico

AIGA, the professional association for design, is committed to advancing design as a professional craft, strategic advantage and vital cultural force. AIGA New Mexico contributes to this cause with initiatives and events that are geared towards: design education, networking, professional development, giving back to the world with design for good, engaging the community of creatives, and having fun.
More information at: http://newmexico.aiga.org